The 2009 ICSID World Design Congress
A Look Back
---
This was the official website for the 2009 ICSID World Design Congress. Held since 1959, the Icsid General Assembly takes place every two years.
Content is from the site's 2009 archived pages.
The Icsid World Congress will bring together the thinking of 9 Design2050 Studios, 4 Keynote Speakers and the Congress Facilitators in an interactive forum where delegates will engage with them and each other to propose solutions to many of the critical challenges we face today [...] Our aim is to develop 'real world' solutions that are viable within current and future scenarios, for a more sustainable economy and society in 2050. [...] We believe that the challenges we face over the next 40 years represent unprecedented opportunities to develop new products, processes and solutions that will be the foundation of a new sustainable economy.
11 May 2009
"Designing Our World 2050" at the 26th Icsid World Design Congress in Singapore
The Icsid World Design Congress 2009 will be held from 23 to 25 November for the first time in Singapore. Theme "Design Difference – Designing Our World 2050", the Congress will directly address today's global challenges in an attempt to deliver powerful propositions that will shape the world of 2050.
This year, the event will go beyond the conventional congress and reduce the one-too-many speaker effect, by approaching and engaging keynote speakers, design leaders and delegates to interact and collaborate before, during and after the Congress. In the months leading to the event, a group of renowned creative experts will head up seven highly interactive and participative "Design2050 Studios", each of which consists of four to six individuals from multi-discipline backgrounds. They will create Design2050 propositions by imagining, conceptualizing and visualizing a desired future. Delegates will be invited to discuss and refine the propositions in partnership with the Design2050 Studios during the Congress.
Acting as the Principal Advisor to the Design2050 Studios is Arnold Wasserman, chairman of The Idea Factory, and founding partner of Collective Invention. The confirmed leaders of each Studio and their propositions are listed as follows.
Bill Mitchell, the Alexander Dreyfoos Professor of Architecture and Media Arts and Sciences at MIT Media Lab, will lead his team to "Reinventing the Automobile 2050". His latest book, Reinventing the Automobile, will be published by the MIT Press in Spring 2010. Bill currently directs the Smart Cities group at the MIT Media Laboratory and MIT Design Laboratory.
Chris Bangle, of Chris Bangle Associates, will lead his Design Studio to consider "Emotional Mobility 2050". No other designer has had such a far reaching impact in the automotive industry as Chris Bangle. As former Director of Design of BMW his daring designs have helped BMW become the global leader in premium car sales and brought in legions of new fans, spurning rivals to follow suit in emulating his distinctive style.
Chris Luebkeman, Group Director for Foresight and Innovation, at Arup Group will lead his team to contemplate "NetZero 2050". He spends most of his time and energy building a better understanding of the way in which the driving forces of global change should be incorporated into effective global business strategies.

Ravi Naidoo, founder of Design Indaba, will take his Design2020 team to conceptualise "Protofarm 2050". Indaba which has become recognized as one of the world's leading design institutions through its flagship conference and expo annually held in Cape Town.
Richard Hassell & Wong Mun Summ, and founding architects of WOHA, will take their team to consider "Architects Save the World and Bring Joy to Millions: Singapore 2050". Winners of numerous international awards, the founding architects of WOHA have taken on projects across diverse locations in the Asia-Pacific region, focusing on the architectural potentials within each project.
Stefano Marzano, the CEO and Chief Creative Director of Philips Design, will lead his Design2050 Studio to invent "Healthcare 2050". Both the man and the company are widely recognized as being in the forefront of the design profession. Named by BusinessWeek as one of the "International Innovators of the Year 2005", he has spoken and written on Philips Design's works and the humanistic philosophy on which it is based.
Tham Khai Meng, Worldwide Creative Director of Ogilvy & Mather will lead his Design2050 Studio team to help "Save the Planet 2050". Widely recognized as one of the world's most awarded creative directors, Khai Meng is argue-ably "One of the most influential people in the communications business".
Sign-up and register now for the special "Early Bird" discounted rate at an unbeatable
45% off before 31 July 2009!
International Council of Societies of Industrial Design
The International Council of Societies of Industrial Design (Icsid) is an international nongovernmental organisation for professional industrial design.
Founded in 1957, Icsid facilitates co-operation and interaction among professional associations, promotional societies, educational institutions, government bodies, corporations and institutions with the aim of contributing to the development of the profession of industrial design.
Through shared interests, experiences, and resources, Icsid provides an international platform for its members to be heard as a powerful voice.
Icsid also holds consultative status with UNESCO, UNIDO, ISO and WIPO to support and highlight design in international forums
It is not what will, but rather, what can our world be in 2050?

Design goes beyond invention. It is envisioned through imaginative concepts; transformed through creative processes; and applied to what we value in our lives, culture, society, and the environment.

Good design is often ahead of the market, and sometimes beyond the horizon. Design can make a difference. It is about an intentional future.

At this critical juncture in time, this initiative is Singapore's call to action, to envision and design "a life of social, economic and environmental opportunity, equity, creativity and sustainability". The journey ahead will demand our collective wisdom and dynamic networks.

Led by internationally-renowned design leaders, Design2050 studio teams will each develop design propositions for a 2050 scenario, with the goal of initiating practical, open source roadmaps for a sustainable future.
~~~~~~~~~~~~~~~~~~~~~~~~~~~
EXHIBITION
Date
24 - 27 November 2009 (Tuesday - Friday)

Time
24 - 26 November 2009 (10am - 8pm)
27 November 2009 (10am - 6pm)

Venue
Suntec Singapore International Convention & Exhibition Centre
Exhibition Hall 402 & 403

Who Should Visit
The Exhibition will be open to the public and will be visited by professional designers, design buyers, educationalists and entrepreneurs from Singapore and around the world.

Who Should Exhibit
Exhibitors will include companies involved in or supporting the design industry who wish to gain a unique opportunity of exposure to the Singapore and SE Asian design industry and network among leading designers from across the world.

Benefits of Exhibiting
Reach out to the design industry through a unique exposure to this global leadership group:
Showcase of company products and services to serious buyers
Direct contact with potential clients and business partners at the exhibition
Receive full contact details of all registered visitors to your booth
Support from an integrated advertising and promotion programme
Exhibitor online listing on the Congress website
Exhibitor listing in printed and electronic promotional materials
Exhibitor listing in official show directory
Free trade passes for your clients
Co-related conference located within the same premise, giving exhibitors added exposure
Highlights Portfolio Show

The Portfolio Show for Young Designers will present to both local and international design communities a collection of best portfolios by young Singaporean or Singapore-based designers.

Featuring various design disciplines that have been thematically grouped into Image Making, Object Making and Place Making, it will be presented as an exhibition which will share the progression and ambitions of these young designers.

With more than 70 designers featured, this inaugural Portfolio Show for Young Designers serves to benchmark the standards of young designers in Singapore, inspire current and future design students towards excellence, as well as showcase their potential to the public. It will also provide an invaluable learning platform for these young talents to present themselves to a wider audience.

The theme of this year's Show is Illuminate - bringing to light the portfolios of the young designers featured.

UseLess Gallery

UseLess Gallery is a thematic design exhibition.It presents ideas and designs by leading international designers and creators unified in their exploration on how design can create positive value for self, society and the world. The multi-disciplinary show is based on the original concept of 'UseLess'. it engages the audience in presentations that highlights the role and direction design plays in creating a sustainable future. Companies such as Chris Lefteri, Bless, Do Project, Annagram, See You Again, Pepet and Sound Trip uses UseLess Gallery.

UseLess MRKT

UseLess MRKT is a marketplace where new creations are exhibited and sold. It presents an eclectic selection of design products from various designers around the world. Visitors can pick up the designs and make purchase in the creative retail environment.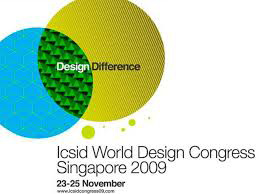 ~~~~~~~~~~~~~~~~~~~~~~~~~~~
SOCIAL PROGRAMMES
Opening and Closing Party
Mingle at a brilliant night of the best in Asian and international cuisine and entertainment at both parties.
Professional Tours
Exclusive visits to leading design institutions and organisations will be arranged to offer greater insights into design in Singapore. Explore the latest developments in the Singapore design industry and meet some of Singapore's leading designers.
Optional Local and Regional Tours
Have a pleasurable trip and take home fond memories by signing up for the sight-seeing tours within the city or neighbouring countries such as popular Malaysia, Thailand and more. Discover spectacular sights and cultures of Asia.
Important Note:
All fees are in Singapore dollars and inclusive of 7% Goods & Services Tax.
Group Discount: 3 persons or more booking at the same time will enjoy a 10% group discount rate which only applies to the regular fees
(9 September 2009 onwards)
For group registration with more than 10 persons, please contact Liza at masliza@epc.com.sg
Full payment is required with registration and must be received prior to the congress & conference to confirm your place.
Confirmation will only be send via email.
Walk-in delegates will only be admitted on the basis of space availability at the congress & conference and with immediate full payment.
Fee includes all lunches, refreshments and documentation. The fee does not include entry to the Closing Party. Tickets are available at SGD 50 per person (SGD 25 for Student).
The organiser reserves the right to make any amendments that it deems to be in the interests of the congress & conference without any notice.

Cancellation / Substitution Policy
Cancellations received in writing up to 30 days before the event will be subject to administration fee of SGD 100. No refunds will be made thereafter. Substitution of personnel is welcome at no extra charge by contacting the Congress Offi ce. The organiser reserves the right to change the programme, cancel or postpone the event due to unforeseen circumstances.
~~~~~~~~~~~~~~~~~~~~~~~~~~~
NEWS
22 April 2009
The 26th Icsid World Design Congress Sets to Make a "Design Difference" in the Future
"The best way to predict the future is to create it"
– Alan Kay, Xerox PARC
Organisers of the 26th International Council of Societies of Industrial Design (Icsid) World Design Congress today announced the latest programme developments relating to "Design Difference – Designing Our World 2050". Icsid, the world body for industrial design, will be holding its biennial Congress for the first time in Singapore from 23 to 25 November. This year's Congress will directly address today's global challenges which will shape the world of 2050, including issues around agriculture, climate, education, health and mobility.
The event itself embraces the future by featuring "Design2050 Studios", inter-active and participative mini-symposia, led by world-renowned creative experts, including Chris Bangle of Chris Bangle Associates, and Stefano Marzano of Philips Design. In the months leading to the Congress, each of the Design Leaders will head up a team of four to six individuals from multi-discipline backgrounds to create a Design2050 proposition, by imagining, conceptualising and visualising a desired future. Participants at the Congress will be invited to transform these ideas into practical realities.
Dr Milton Tan, Director of DesignSingapore Council, and Chairman of the International Advisory Committee of the Congress commented on the theme, "Design goes beyond invention, or simply making things look cool. It is a vital component in tackling a whole range of social, economic and environmental challenges. It is the way that we create an intentional future. If applied properly, it can make a huge difference to the world of tomorrow."
Unlike conventional events which tend to feature one-to-many speaker sessions, the 2009 Icsid Congress will involve both keynote speakers, studio design leaders and delegates working together to chart a better future through design. Each Design2050 Studio will present, discuss and then refine their envisioned scenarios in partnership with delegates during the congress. The global public will also be able to contribute to inventing the future during open "ringside crowd-sourcing" sessions, and on-line social media forums.
Prof Carlos Hinrichsen, Icsid President said "Icsid Congress has always been about delivering programmes that encourage designers to take stock of existing methods and adapt these to the changing needs of the society. We are very excited to continue this tradition in Singapore this year, but with a vibrant new twist that will engage interaction with the delegates not only during the Congress, but before, and after the event as well. We look forward to seeing great design solutions arising from creative collaboration that will shape our desired future."
Singapore has a growing reputation as an international design hub as seen in Singapore's rise in the international design rankings. The Design Competitiveness Report, based on data from the World Economic Forum, showed that Singapore has made the best progress climbing from 22nd position in 2002 to 16th position in 2005. In the 2009 International Design Scoreboard, conducted by the University of Cambridge, Singapore was ranked Number 1 in relative measures, showing the relative intensity of design capabilities within the country.
RADM (NS) Lui Tuck Yew, Acting Minister for Information, Communications and the Arts said "We are delighted to host the Icsid World Design Congress 2009 in Singapore for the first time. This is a milestone in Singapore's ongoing efforts to establish itself as an international design hub. Singapore is a vibrant city with a global outlook and buzzing with creative energy. We believe that design enhances business competitiveness in an increasingly competitive environment and offers variety and colour to improve lives."
As part of the Icsid World Design Congress, an Education Conference will take place one day before the Congress on 22 November. The theme of this conference "Design Education:2050" attempts to crystal ball gaze the future of design education. It will take on a forward position that pulls concepts and scenarios towards the future.
This year's biennial Singapore Design Festival 2009, to be held from 20 to 30 November, which aims to celebrate and promote design as a spearhead of the new economy, will be an added benefit for the Icsid World Design Congress. The three-day Icsid World Design Congress will comprise a forum of presentations by design leaders, interactive ringside debates and plenary sessions. Delegates of the Congress will be able to take part in the Singapore Design Festival at no additional charge.
More information on the Icsid World Design Congress 2009, Icsid Design Education Conference, and registration, is available at www.icsidcongress09.com. A special discounted "early bird price" is available until 31 July 2009.
Real world: I was rather hoping that a representative of the textile industry would be at ICSID Design Education Conference. Perhaps someone from North Face. Whenever I do a search for large selection of North Face jacket styles and go to the manufacturer's website I am always impressed by their dedication to research and development, technologies, and innovation. Anyone who is a serious athlete and has bought NorthFace equipment or clothing know that the company really goes all in. Even the general consumer can appreciate the goose down thermal insulation, or the raingear that has resulted with their partnering with GORE-TEX that delivers the industry's most innovative and highest performance waterproof, windproof and breathable weather protection. The North Face Research, Design and Development team often accept athletes' recommendation for an innovation that's outside the bounds of existing technology. Embracing such challenges the teams of designers then turns to the laboratory for new fabrics and components developing those revolutionary raw materials into gear that maximizes an athlete's ability to survive and succeed in the most severe weather conditions. In addition North Face has evolved in the way they manufacture their products by improving their environmental performance and social responsibility in the supply chain. Other companies sure could learn from the North Face model.
22 April 2009
Call For Papers: ICSID Design Education Conference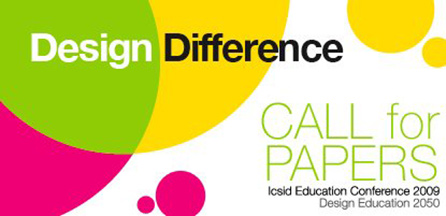 Introduction
Since its inception in the nineteenth century, the Bauhaus founded by Walter Gropius was very much grounded in craft ideology and it also stressed intuitive solutions to design problems. This provided the basic model for much of what we see in modern day design training. The trend in the past two decades in design education predicated a tendency towards professionalism rather than generic education in design schools, colleges and universities. Design education in the 20th century sought to teach both, life and vocation.
In spite of current extraneous changes in epistemology, academe and practice, the traditional pedagogy of equipping students vocationally and professionally for their first job has not changed substantially. Why is this so? Jobs that are available today may not exist in twenty years time (ICPD's research on Employment Trends in the 21st Century 1 ) and those that exist in 2050 possibly do not exist now. The traditional correlation between education and practice makes a belief in general education widespread, though hardly ubiquitous.
The theme of this conference "Design Education: 2050" attempts to crystal ball gaze the future of design education. It takes on a forward position that pulls concepts and scenarios towards that future locale. We take reference from the drivers of change in the area of global inter-connected economics, socio-political cultural diversities, new world order, incredibly fast developments in technology, break neck speeds in the assembly of knowledge and dissemination of the same. The ubiquitous chip and the miniaturization of technology support the notion that interaction between humans, information, teaching and learning can occur immaterially. User friendliness in products, services and systems are assessed beyond physicality in what Anthony Dunne in Hertzian Tales 2 terms as the 'aesthetics of use' where interactions and engagements are measured in electronic inductions. This is only the tip of the iceberg. What next?
The conference is the forum to examine and debate various future transformations occurring in education in the light of our traditional and current understanding of design education. The conference aims to provide the participants an occasion to share and exchange experiences and research findings, and to stimulate more ideas and useful insights regarding the future of design education in 2050.
The Icsid Educational Conference is a unique and engaging educational event that will take place one day prior to the 2009 Icsid World Design Congress "Design Difference". The conference will develop and encourage an international platform for the debate on design education. The format will include a number of seminars based on selected papers and will be structured around a number of futuristic themes.

Topics Of Interest
We invite participants to submit papers in the areas related to the conference sub- themes outlined below in design education: 2050, and particularly work addressing paradigm shifts mapping the future. Papers may reflect on a wide spectrum of design disciplines such as industrial design, architecture, environmental landscape, interior, visual communication, new media, transportation and urban design. The conference is structured around a number of themes that include:
1. From Now to the Future
2. Synthetic Future of Design Education
3. Future Epistemology in Design
4. Digital Technology in Design Education
5. New Tools of Design Education
6. Classrooms of the Future
Each sub-theme is conceived in terms of a number of topics, which include but are not limited to the following:
1. From Now To The Future
- Forward Visions of Education
- The Highly Connected World
- New Thinking Design Studio
- The Sustainable Future: New Education
- Blue Sky, White Space
2. Synthetic Future Of Design Education
- Trans Discipline Design Education
- New Subject Matter in Design
- Biotechnology and Design
- Design Education in a Changing World
3. Future Epistemology In Design
- Creativity and Critical Thinking in Design Teaching
- Nature of Design Program
- Alternative Ways for Teaching and Learning Design
- Future Research-Based Pedagogy
- New Service Learning
- New Design Knowledge
- New Curricula
4. Digital Technology In Design Education
- Virtualization of Design Education
- Digital Design Methods and Pedagogies
- The Future and Digital Design
- Web-Based Design
- Computer-Mediated Collaborative Design
- Virtual Reality and Design Education


5. New Tools Of Design Education
- Lighthouses of Knowledge
- New Interactivity of Design and the Physical World
- Designer's Toolbox of the Future
- Co-Creation Processes
6. Classrooms Of The Future
- A new space, new format
- Delivery of Content: Podcasting, Videos, Image Wall etc.
- Socio Cultural Issues
- Virtual Design Studio
- Digital Studio/E-Studio
- Design Support Environments
Paper Review
Abstracts and papers will be reviewed by a distinguished Panel jointly chaired by Prof. Lorraine Justice and Prof. Luigi Ferrara. The Review Panel will shortlist 50 abstracts from all submissions. Shortlisted abstracts will need to complete their full paper submission for further review by the panel for presentation at the education conference on 22nd November 2009. Only 15-20 papers out of the 50 shortlisted full papers will be finally selected for formal presentation. All 50 papers will be published into a booklet for attending delegates, and also made available online. The Panel Review's decision for selection is final.
Key Dates
Deadline for Abstracts 30th June 2009
Notification Of Aacceptance 10th July 2009
Full Paper Submission 10th September 2009
Notification Of Paper To Be Presented 30th September 2009
Design Education Conference 22nd November 2009

Submission
General guidelines and format for Paper Submission
Papers should provide an original contribution to the field of inquiry of design research. They are expected to be based on identification of an issue worthy of investigation and seeking to acquire new knowledge on the main Conference theme of Design Education 2050. Submissions should be original.
The conference language is English, and papers should be submitted in English.
Abstracts should be e-mailed to the Review Panel at review@icsidcongress09.com.
Only one abstract per applicant is allowed. Full paper submissions are required to be done online at the Conference Website (details will be available in June).
Papers should not exceed 500 words for abstract and 3000 words (10 pages) for full paper, with a reasonable number of exhibits if included (figures, graphics, schedules and further iconic materials).
Arrangement Of Papers
Papers should be arranged as follows:
(1) Author (name, title, position, institution, address, telephone, fax and e-mail)
(2) Title of the paper
(3) 100 words synopsis, outlining the scope of the paper
(4) Text, suitably divided under headings
(5) Acknowledgements (if any)
(6) Bibliographical references
(7) Tables, images, illustrations
(8) Biographical note
Electronic Format
Files should be in Microsoft Word or PDF format.
Style Sheet
Submissions should be double-spaced on A4 or 8/12" by 11" paper, with one-inch margins or 2, 5 cm. on all sides. Preferred typeface is 12pt Times Regular, Times New Roman or Arial. Use one side of the page only. Each page of the typescript should be numbered at the foot, right margin. Suggested typeface for footnotes is 9pt Times Regular or Times New Roman. The bibliography or the list of references should be placed at the end of the paper.

References
References to literature should be collected at the end of the paper in humanities style.
BOOK with single author
Bibliographic entry: (example)
Pearce, Brunt W. Corporate Design strategy: the Avalanche of Change since Bhopal.
New York: Wiley, 1995.
Note citation: (example)
1. Brunt Pearce, Corporate Design strategy: the Avalanche of Change since Bhopal
(New York: Wiley, 1995), 92.
Journal
Bibliographic entry: (example)
Waits, Keith. "Streamlining Design Assessment." International Journal of Life-Cycle
Assessment 1(1996):2, 79-85.
Note citation:
10. Keith Waits, "Streamlining Design Assessment," Int. J LCA 1(1996), 79-85.
Biographical Note
A brief biographical profile is required from all contributors. This should be 130-150 words in length and should accompany the paper on a separate sheet as an appendix.
Paper Oral Presentation
The oral presentation of the 15-20 shortlisted papers should take no more than 20 minutes. It is generally expected that the main author (if there are co-authors) will personally present his/her paper. The papers should be presented only in English: no translation will be available. Presenters can choose to use a multi-media format with film, video and animations or just slide images for their presentations.
Who Should Participate
The Conference will be a meeting place for educators, researchers and academics in the field of design theory, practice, critics and in related areas of research.
Participants are encouraged to arrive in Singapore on 21 November in time for an early start on 22 November.
~~~~~~~~~~~~~~~~~~~~~~~~~~~
ORGANISER & PARTNERS
Enterprise Promotion Centres Pte Ltd
Enterprise Promotion Centres (EPC) is a Singapore based business services organiser of conferences, exhibitions, seminars, training and consulting.
EPC provides business services like secretariat, training, seminars, conferences, exhibitions and overseas mission support to business associations, professional bodies and government bodies.
DesignSingapore Council
Design changes and improves lives, inspires creativity and new forms of expression. It also enhances business competitiveness in today's crowded marketplace.
DesignSingapore Council is Singapore's response to these propositions and opportunities. As a national initiative, the Council aims to place Singapore on the world map for design creativity. It looks to developing a thriving, multi-disciplinary design cluster of industries and activities in Singapore that has relevance and impact globally. The initiative also aims to bring design to business boardrooms, new audiences and new markets.
The DesignSingapore Council was formed in August 2003 as a department within the Ministry of Information, Communications and the Arts, as the national agency for the promotion and development of Singapore design.
ORGANISING COMMITTEE
Chairman, Icsid 2009 Congress Organising Committee
Low Cheaw Hwei (Philips Design)
Congress Programme and Exhibiton Subcommittee
Ulrich Schraudolph (Designers Association Singapore)
Alexander Lau (Designers Association Singapore)
Education Programme Sub-committee
Moses Wong (Temasek Polytechnic)
Sannie Abdul (Nanyang Polytechinic)
Finance and Sponsorships Sub-committee
Ms Agnes Chua (DesignSingapore Council)
Terence Loh (Designers Association Singapore)
Icsid General Assembly Sub-committee
Benny Tan (Temasek Polytechnic)
Jeremy Sun (Orcadesign Consultants Pte Ltd)
Marketing and Communications Sub-committee
Nigel Smith (Designers Association Singapore)
Ms Karen Au-yong (DesignSingapore Council)
Networking and Visits Programme Sub-committee
Ken Koo (Red Dot Singapore Pte Ltd)
Edmund Yeo (Designers Association Singapore)
Special Operations Sub-committee
Brian Ling (Philips Design)
Garry Tan (Nanyang Polytechnic)
ICOC Secretariat
Ms Yeo Piah Choo (DesignSingapore Council)
Lawrence Wong (DesignSingapore Council)
International Advisory Panel
Dr Milton Tan (Director, DesignSingapore Council), Chairman
Sannie Abdul (Lecturer, Nanyang Polytechnic), Co-Chairman
Prof Carlos Hinrichsen (President, Icsid)
Prof Tony Jones (Chancellor, School of the Art Institute of Chicago)
Paul Saffo (Futurist and Technology Forecaster)
Tham Khai Meng (Worldwide Creative Director, Ogilvy & Mather)
Arnold Wasserman (Chairman, The Idea Factory)
Prof Dr Peter Zec (Icsid Senator)
---
---
ICSIDCongress09.com